Commercial Electrician, Industrial Electrician, & Licensed Electricians in Midlothian, TX
Since 1993 we've been providing Midlothian and the surrounding communities in the DFW area with exceptional commercial electrician services. No matter if you own a small business or large plant, we have the skills, technology, and expertise needed to offer you the optimal service that you deserve.
With an A+ rating from the BBB and a team of dedicated professionals, it's our goal to make electrical repairs and installations hassle-free, so you don't have to stress over it! Have an emergency electrical situation? Get in touch with us ASAP!
Commercial Electrician in Midlothian, Texas
Finding a reliable commercial electrician for your Midlothian businesses shouldn't have to be a hassle. With nearly three decades of experience in the electrician business, we're the obvious choice when it comes to experience. But more than our experience, our commercial electricians are licensed, certified, and ready to go above and beyond the call of duty to ensure your complete satisfaction when it comes to all of our services.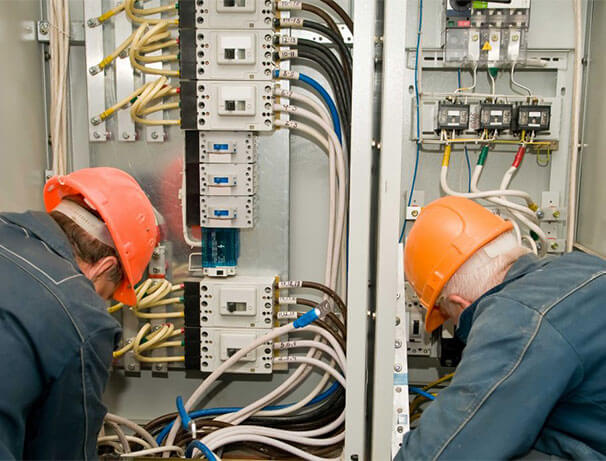 By following a 5D methodology, our commercial electricians offer your business unmatched service:
Industrial Electricians for Midlothian, TX
When it comes to commercial electrician services, it's not one-size-fits-all. Industrial electricians work on large-scale businesses including factories, plants, and mines, where electrical systems are different from smaller-scale mom & pop shops.
If you're looking for a reliable and licensed industrial electrician for your industrial building, then we can give you a hand. No matter if you need help with your operative machinery, or you're searching for a licensed electrician to help with robotics, our industrial electricians are here to help!
Licensed Electricians in Midlothian, TX
Known as a hub for industrial businesses and small businesses alike, Midlothian, Texas is a prominent staple in the cement industry. With cement and steel companies providing jobs to the community, Midlothian, TX is also known as a great place to live. From rural charms to indoor and outdoor entertainment options, Midlothian is a pleasant community that's made up of families, professionals, and a range of businesses that contribute to its appeal.
If you're looking for a licensed electrician for your businesses in Midlothian, TX, or the surrounding areas, get in touch with us today! Using our experience and passion for helping the community grow, we provide you with unmatched service and passionate licensed electricians who are ready to help you with all construction projects, remodels, installations, and repairs. Whether you need a licensed electrician for switchgear repairs or generator installation, we're here to improve your business and provide you with affordable services.